Flickr - a world beating online photo management and sharing application - has two main goals:
1. To make your photos available to the people who matter.
2. To organize your photos the way you want them.
There are many ways to upload your photos to Flickr but with PicaJet Flickr Edition, you can now do this almost effortlessly with just a single mouse click. If you have a free Flickr account, you can upload up to 100MB worth of photos every calendar month. This is a monthly upload limit; your space on the Flickr servers is almost unlimited. If you find yourself hitting your monthly limit, try a Pro account. Alternatively, you could automatically resize your photos using the PicaJet Flickr Uploader to make them more "web-friendly". A 5MB file, for example, could be reduced to about 300KB using this feature.
Get the PicaJet FX edition with built-in Flickr Uploader for just US 29.95$, save 10$!
Please see below for the simple steps needed to upload photos to Flickr.
Installing PicaJet Flickr Edition
After downloading the PicaJet installation file, please open it and follow the installation wizard instructions. If you have already installed PicaJet then you only need to download and install the Flickr Uploader Plug-in. If Picajet is already installed then the install wizard automatically detects it and installs just the plug-in.

How to upload Images to the Flickr Online Sharing Service in a few simple wizard-based steps:
1. Start up PicaJet and select the pictures you wish to upload. Then click on the Flickr Uploader button (see the picture above).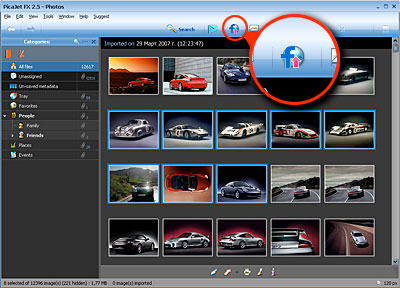 2. The Flickr Uploader login page appears. Click on the Login button. If this is your first time using PicaJet Flickr Uploader, you need to authorize your account. Authorizing is a simple one-off process, which takes place via your web browser when you click the Login button. When you are finished, return to PicaJet Flickr Uploader and press OK to continue.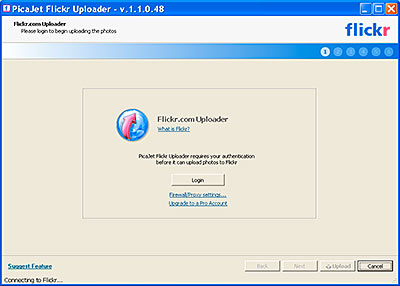 ---
3. On the second Uploader Wizard page you can enter image information mapping parameters such as image captions and tags. Once you have set these options they will be automatically assigned to images in your Flickr files. This means that you will not have to repeat the chore of organizing the same images in both local PicaJet and online Flickr files. Note: Professional photographers might be interested in the "camera lens" tag which can be automatically extracted from some Canon and Nikon cameras.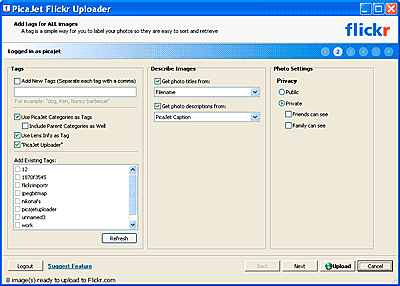 ---
4. In the next step you can select an existing set of images to upload or create a new one. When you have done this, click the "Upload" button to upload your images to the online photo service. Alternatively, click the "Next" button near the bottom of the Uploader window for further options.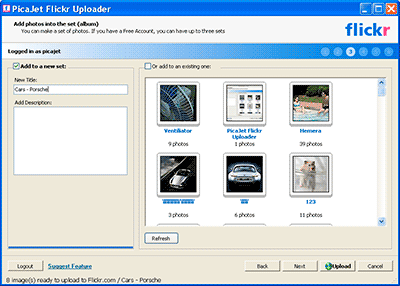 ---
5. In this step you can deselect images you do not wish to upload to the photo sharing service. For example, you could deselect images that are already uploaded. After your selection is made click on the Upload button to upload the selected images or click the "Next" button to access the image optimization options.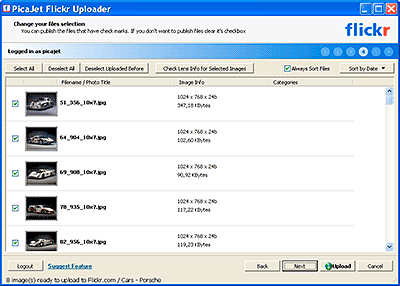 ---
6. On this page you will see some useful image optimization options. The original photo files on your PC may be too large and Flickr Uploader can help you optimize the image size and quality to reduce the upload speed and online image file size. Some image formats are not supported by Flickr, for example RAW and TGA files are not supported. These can be converted to JPEG or other image file formats that are supported by Flickr. The image optimization options you selected will be stored and used for subsequent uploads until you change them.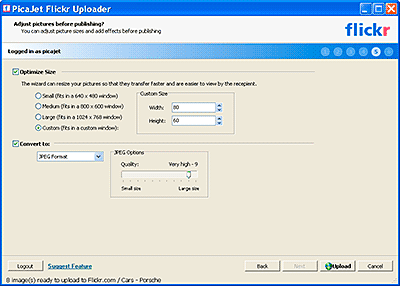 7. When you are done with the optimization options click on the "Upload" button to begin image uploads to the online photo sharing service.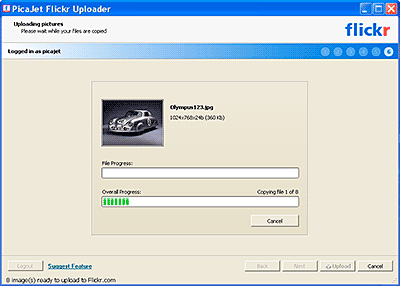 After the selected images have been uploaded to Flickr you will be prompted to view the uploaded photos and email viewing invitations to your friends.

---
Flickr supports JPEG, PNG, non-animated GIF, BMP and TIFF file formats. Other formats can be automatically converted by PicaJet Flickr Uploader in step 5 as described above.