Every budding digital camera user has this problem: Keeping the photos in an easy to remember way. An average user may have a "few hundreds" of photos called IMG_100.JPG, IMG_0152.JPG, IMG_0531.JPG* in folders CAN0100, CAN0111*, etc.

Pictures you can't find are JUST AS USELESS as pictures that are completely lost!
So, it is important to think about a system for naming pictures and picture folders.

How do I get RoboFolder FREE?
Our partnership with TrialPay allows you to continue enjoying all the benefits of RoboFolder, a $29.95 value, for free simply by trying or buying a product from one of our trusted partners.

RoboFolder Key-Features

Folder Renaming
RoboFolder takes a fresh approach into managing your photos by re-arranging the folder structure (see left) to logical folder structure you can understand (see right)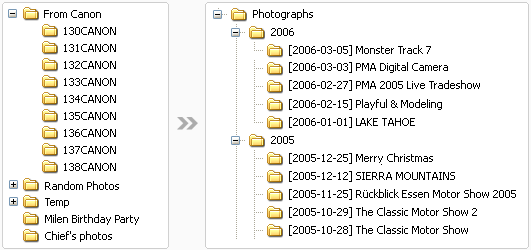 Photo Renaming
RoboFolder allows you to rename files based on flexible renaming system. This rename system prevents duplicates and put a short info to a file name such as brief camera model name, picture taken date and time: 2005-01-31_12-98-12_350D.jpg.


Auto-Rotate during Transfer
All your photos will be rotated correctly. There is no additional software required to batch rotate your photos. The rotation is fast and does not degrade the photo (lossless rotate). The application supports JPEG images and EXIF thumbnail and correct EXIF orientation tag.


Split RAW, Video and JPG files into separate folders
High-end digital cameras take photos in both JPEG and RAW file format. JPEG uses lossy compression and may affect colors and resolution. The photo may be blur or bleed colors for no reason. The RAW file is not compressed and captures the photo without resolution loss and color loss and gives more flexibility, and higher quality beyond just exposure adjustments. RoboFolder allows you to transfer the RAW files into separate folders than JPEG.


Auto-Correct Resolution
RoboFolder will set your photos to 300 DPI for quality printing if the camera uses a different DPI resolution. Most cameras take 72 DPI resolution photos.
(DPI = Dots per Inch)


Auto-Correct Dates
RoboFolder will change the file created and modified dates according EXIF/IPTC picture taken dates.

Read-Only
RoboFolder can set the photo to read-only to prevent file deletion.
If you have installed PicaJet Photo Organizer the database links will be re-indexed to prevent missing links problem.

If you have thousands of photos, you need RoboFolder!


Meaningful folder names such as "[2005-12-09] Milen Birthday Party" can be created.
Roll Back Manager. If you are not satisfied with transfer results you can undo a transfer operation.
Source files will be deleted only: if user select "Delete sources" options and copying file was successfully transferred (check for file identity).
Automate boring tasks to save time. When you have hundreds or thousands of photos, you save lots of time.
Automatically copyrighted your photos by filling in the IPTC annotation.
Immediate "Result" folder structure preview. You can see the transfer result to avoid any transfer mistakes. Built-in duplicate-checker feature prevents accidental overwrites.
Powerful custom tokens editor. New custom tokens: season, type, etc.
Support for RAW files
RoboFolder
An easy-to-use file renamer and folder re-organizer
Version: 1.2.0.72
File size: 2.45 MB
Date: March 08, 2012


You can try RoboFolder free but with some limitations.
To use RoboFolder without limitations you will need to purchase a license.
RoboFolder can be localized to multiple-languages.
| | | | |
| --- | --- | --- | --- |
| | | | PicaJet.com |
| | | | PicaJet.com |
| | | | Byung-Wook Kang |
| | | | Sergey Pavlov |
Warning:
If you choose "Delete Source Files after Transfer" in the application options, your files will be moved to another location and any cataloguing tools you used will lose it's links to imported files. You should to write/use a special script for correcting file paths inside your cataloguing program based on a generated log file*
Log files location: C:\Documents and Settings\UserName\Application Data\Picajet.com\PhotoTransfer\X.0\Logs
Notes:
* Folder and filenames may vary from Digital Camera Manufacturers. The example was taken from a Cannon Digital Camera. For example: Sony Digital Camera uses "DSC001.JPG".

* Except the PicaJet Photo Organizer. RoboFolder can automatically correct PicaJet file database links.

* The words Photos, Images and Files are used to denote the same meaning. A file contains an image (*.JPG). The image may be a photo. Therefore, a photo or image is a file.