| | |
| --- | --- |
| | Fotki.com - is a great way to share your digital memories with the online World and receive comments from a wide variety of people all around the globe. This fast, reliable online photo sharing service provides unlimited space and a wonderful community spirit! If you haven't yet registered, then join now and try out the amazing features offered by Fotki world. |
You can try a free Fotki.com account (limited to 25 MB) or obtain a premium account which offers unlimited storage space and unlimited access to the rich array of Fotki premium services for just 30$.
PicaJet Fotki Edition is a special version of PicaJet Photo Manager, which simplifies the process of uploading your digital images to online photo sharing services. The integration of this photo manager with Fotki.com allows PicaJet customers to upload their digital files to the service with just a single mouse click. Please see below for the steps needed to complete an upload.
Two unmissable offers are available for a limited time only:
Offer one: A full Fotki Pro Account and PicaJet FX version for just US54.9$, a saving of $10.
Offer two: Get the PicaJet FX Fotki Edition with built-in Flickr Uploader for just US34.95$, a saving of $5.
Installing PicaJet, Fotki Edition
After downloading the PicaJet installation file, please open it and follow the installation wizard instructions. If you have already installed PicaJet then you only need to download and install the Fotki Uploader Plug-in. If Picajet is already installed then the install wizard automatically detects it and installs just the plug-in.
When you start up PicaJet with the Plug-in, you will now see the Fotki Uploader button on the PicaJet toolbar.

How to upload Images to the Fotki.com Online Sharing Service in a few simple wizard-based steps:
1. Start up PicaJet and select the pictures you wish to upload. Then click on the Fotki Uploader button (see picture above). The Fotki Uploader login page appears: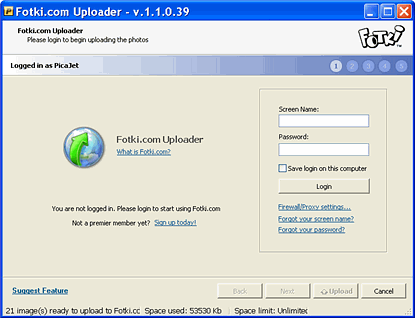 ---
2. Enter your Fotki screen name and password, and then press the "Login" button. You will be connected to your Fotki account. You can now create a new folder or select an existing album for your images upload. Then click on the "Next" button at the bottom of the Uploader wizard.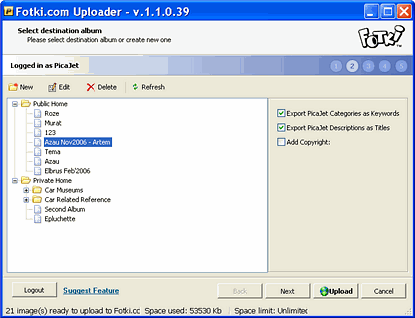 ---
3. You can now upload your images by pressing the "Upload" button. Alternatively, you can deselect any images you do not wish to upload to the photo sharing service. You could, for example, deselect some images that are already uploaded. After your selection is made click on the "Upload" button to upload them or click on the "Next" button to change some of the image optimization options.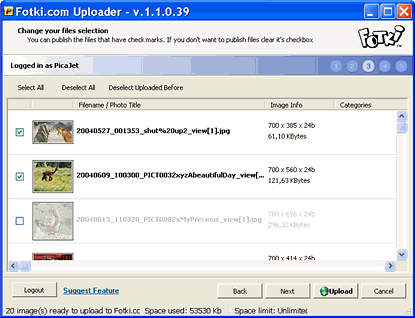 ---
4. On this page you will see some useful image optimization options. The original photo files on your PC may be too large and Fotki Uploader can help you optimize the image size and quality to reduce the upload speed and online image file size. Some image formats are not supported by Fotki, for example RAW, TGA files are not supported. These can be converted to JPEG or other image formats supported by Fotki. When you are done click on the "Upload" button to begin image uploads to the online photo sharing service. The image optimization options you selected will be stored and used for subsequent uploads until you change them.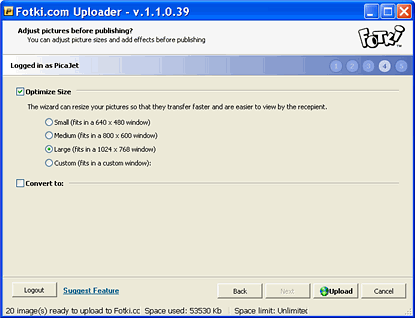 After your images have been uploaded to Fotki you will be prompted to send an email viewing invitation to your friends.

---
Fotki recognizes and accepts the following image file formats: JPEG (*.jpg, *.jpeg), PNG (*.png), PSD (*.psd), BMP (*.bmp), GIF (*.gif) and TIFF (*.tif, *.tiff). Other formats are not (yet) supported.